So this week, we're getting back to basics. Back to what this little creative journey started off with–Character creation.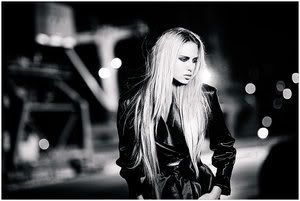 Image originally from Borissov at DeviantART

Don't think, don't weave intricate tales, don't try to be brilliantly insightful. Just tell me who this is. You tell me as much as your creative mind allows, or as little. Some people's first instinct when looking at an image is a snowball effect of ideas and stories. Some need more guidance. At the very least, answer the following:

* What's her name?
* What's her favorite movie/book? (Does she even have one? Can she even read?)
* What is her favorite time of year?
* Is she allergic to anything?
* Has she ever been married?
* How many siblings does she have?
* What is her dream?

See? You don't have to answer those specifically, but if you're having trouble getting inside the heads of characters you're writing into short stories (Or novels for NaNoWriMo), sometimes these mundane questions help.

No excuses this week, hmm?

Ready, GO!
Angela had the dream life that many little girls fantasize about when they are younger. She can be seen on billboards all across the world promoting everything from her line of fragrances to fancy designer clothing to her own multi-platinum CD. Children everywhere looked up to her, women everywhere envied her, and men everywhere wanted to be with her.
Yet...Angela had a problem.
Ever since she was little her mother, a former beauty queen, pushed her only daughter to showbiz. She was the baby in the Sears Wish Book for three years running until, her parents got her into commercials. She was entered into beauty pageants all throughout her schooling. However, Angela wanted more for herself. She felt she was more than just a pretty face, she applied herself in her studies. She got tutors for herself without her parents knowledge, she developed a taste for fine arts, literature from some of the greatest minds of our time, and the cinema like Shawshank Redemption and Memento, and she made the honor roll every year at school. She wanted to become something where she would be appreciated for her mind and not her looks. But she never had the self confidence to step up to her parents, because watching her win awards made them so happy. And this trend continued even as she received her Master's degree in biochemistry. Her parents were elated that now she had finished school she could make her star burn brighter than ever before and wouldn't be bogged down by classes and such. And this trend continued because at this point she was tired of trying to do something else.
Then one night everything changed, Angela arrived to hair and makeup early for a photoshoot. She was sitting in the makeup chair and waiting for her stylist when she overheard the director of the shoot, speaking about "all these idiot models" and "stuck up bitches who probably can't read more than a clothing label." She got fed up and left the shoot.
And here she is, she has not turned back. The director has called, her parents have called, her friends have called. She's done being a model, she's done using her looks to get by, she's going to use her degree and go somewhere were she can be appreciated for her mind, and finally be happy with herself. And suddenly she realized that she loved the taste of the cool autumn night, because it tasted like freedom.